To be able to choose and own a really good coffee roaster, we need to consider many different issues. We should be concerned about the criteria of personal use to the quality criteria or specifications of the roaster. So, what will help us choose the most worthy coffee roaster?
1. Criteria to choose to buy a coffee roaster
- Potential uses
Each coffee roaster is configured with a different capacity, and this factor is also a dilemma for businesses when buying a roaster. For small-scale businesses or business individuals who have just started a coffee business, we often wonder whether we should buy a small and medium-sized machine to save costs or buy a large machine to prepare for the next day. later development. This is such a dilemma and difficult to make a decision!
Along with foresight, you need to understand the growth potential of your business to make the best decision to buy the most suitable roaster. We can imagine with an example as follows: at the moment you only need to use a 5kg roaster, but in 3 years the business will grow and you need to use a 60kg roaster, so you can buy a roasting machine about 20kg, 30kg to use during this time. And after 3 years of development, at this time, a 60kg machine is needed, and it is time for the business to change to a new roasting machine.
- Warranty and maintenance policy
Warranty and maintenance for machines are important and even if it happens often, don't think good machines don't need maintenance while in use. Therefore, make the maintenance of your roaster easier by choosing professional manufacturers so that they can handle it well if there are problems with the machine during its use.
- Design shape, size
Usually, the size of the coffee roaster depends on the capacity, but different brands will give you different designs. Choose a machine of good quality, appearance, and size suitable for the space of your shop or workshop.
- Cost
The cost of buying a coffee roaster is an important factor before deciding to buy. Choosing a cheaper coffee roaster is something many people are still doing. However, you should know that the low initial cost may not bring you advantages when using the roaster, repair costs, loss costs due to production interruptions, or losses due to coffee quality. after roasting poorly… all will cost you more.
Therefore, choose a good quality roaster and buy it from the right manufacturer. That will help you use a good roaster and the right price, along with the best support from the manufacturer. We should not care about choosing a cheap roaster.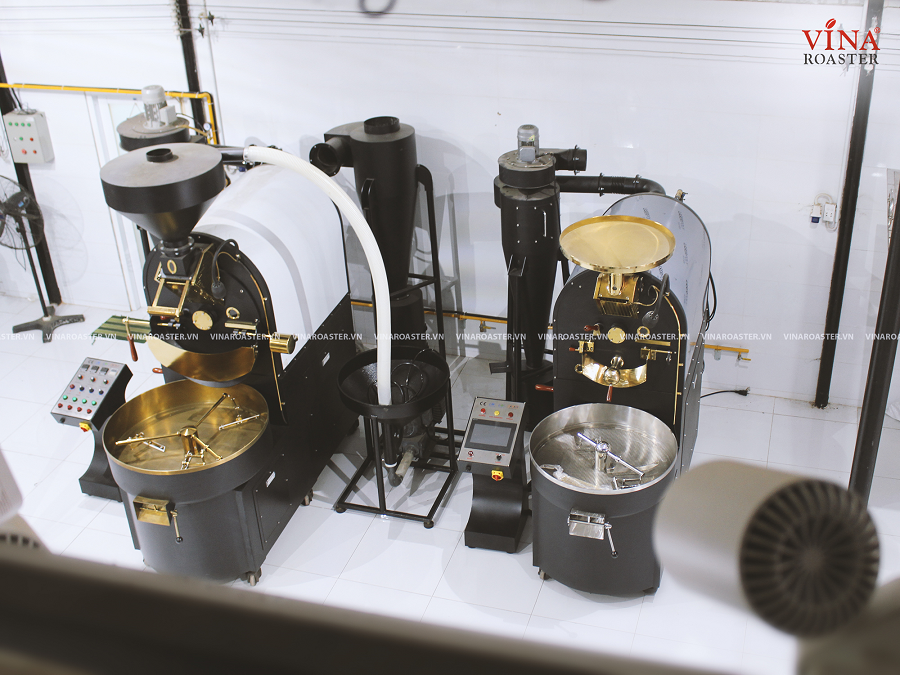 2. Important parameters when buying a coffee roaster
In addition to your usage criteria, you should also consider the important parameters of a coffee roaster to be able to choose a good machine.
- Machine construction
The structure of the machine certainly plays a decisive role in the quality of the coffee roast. Should choose a one-way roaster instead of a circulating roaster, an indirect cage roaster, or a double cage roaster instead of a direct cage roaster.
A one-way roaster with double or indirect cages maximizes the chances of quality roasts and minimizes flavor defects caused by surface scorching or smoke in the roasting cage.
- Engine capacity
Depending on your needs to use the roaster with how much capacity, based on the manufacturer's parameter table can estimate the true capacity of the roaster that you are about to buy. If possible, find people who have experience or have used the roaster you want to buy to consult them for a suitable roaster to use.
- Roasted cage
A roasting cage made of carbon steel is the best choice, don't try to find a roaster with a cast iron cage, because many roasters with swing blades, cage doors or front panels are all cast iron, but Its cast iron cage is still carbon steel.
- Roasting cage speed
The speed-adjustable roasting cage is one of the key factors for us to control and perfect our roast. Increasing the rotation speed of the roasting cage will maintain the right rotation speed of the box to maintain stability and balance in the roasting cage as the beans expand. This feature is useful so that we can roast batches of coffee of different weights.
- Gas control system
The roaster should have a levelless gas control system, and continuous and flexible processing to have the ability to increase or decrease the gas to meet the repetition of roasting parameters for any roasting batch.
- Wind
Should choose a roaster with an adjustable exhaust fan to be able to increase and decrease continuously, should not choose a machine with too high or too weak wind speed, which can affect the coffee after roasting.
Ideally, the coffee beans in the roast should be completely cooled in about 4 minutes. Rapid cooling will help your beans retain the best flavor, without the smell of baking, and without reducing the original sweetness of the beans.
- Pollution treatment equipment
It is very important to equip a system to deal with smoke pollution, smoke burning, and humidification. Because the roasting process of coffee will release many types of toxic waste, which can cause cancer, air pollution, and bring unpleasant odors to those around. Either way, a favorable business must be accompanied by ensuring the quality of people's lives and the digital environment.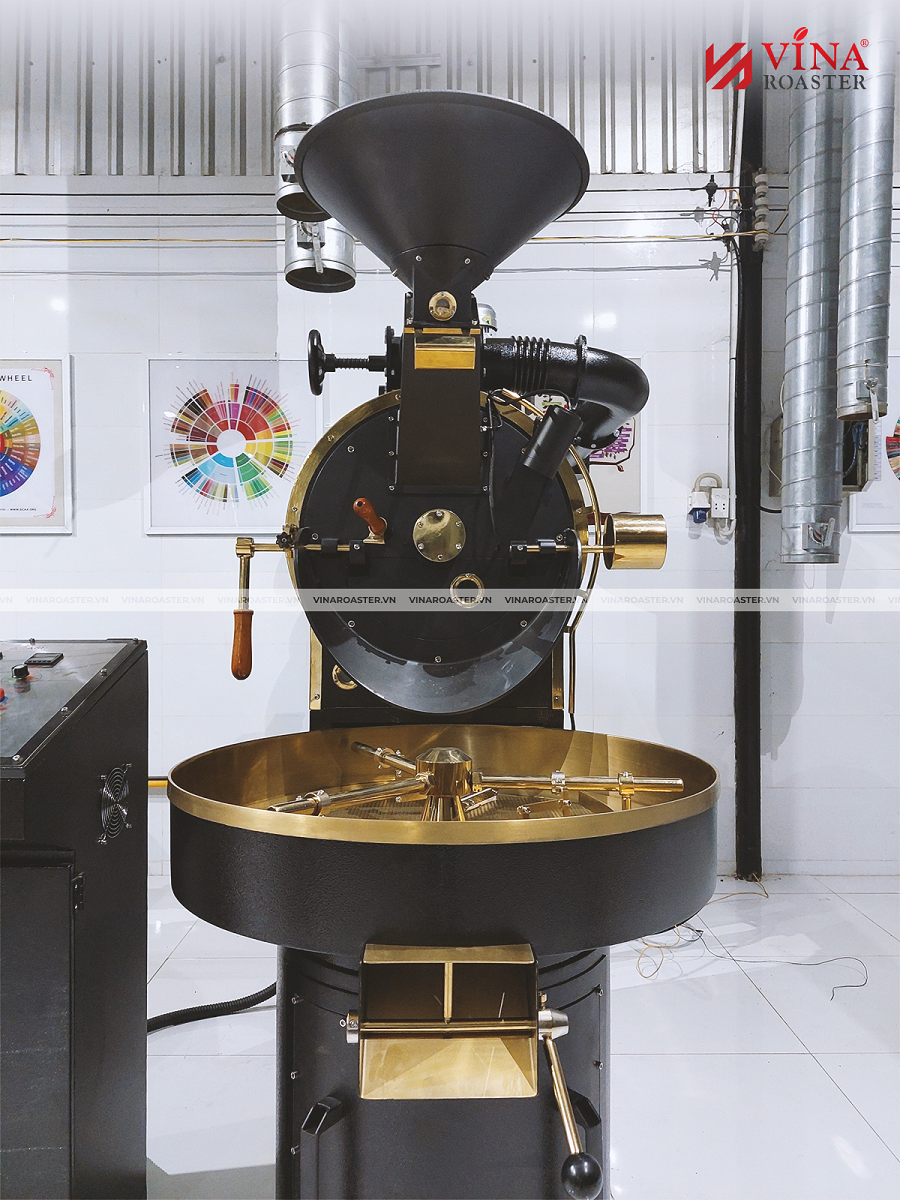 3. Which type of coffee roaster is the best today?
As a brand of coffee roaster appeared late in the market but has developed very strongly in recent years. The highlight of Vinaroaster is providing a full range of coffee roasting machines at very cheap prices compared to the market.
Currently, Vinaroaster has become one of the major coffee roaster brands. It can be said that Vina Roaster's customer support policy is the best today.
Read this far, do you know how to choose the right coffee roaster for your needs? This is a personal experience-sharing article that is not based on any documents, so if it is suitable for you, please refer to it!